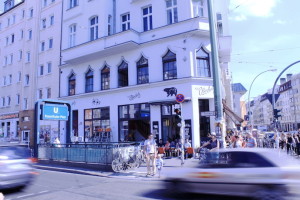 http://sanktoberholz.de/en/locations/
Parece bem legal. Ainda não fui lá…
Outros lugares:
The Oberholz (http://www.sanktoberholz.de/) as mentioned by Paul Jozefakis definitely the obvious choice and a geekmeet par excellence. However it can be quite crowded and as of late the Internet reception can be a bit unreliable.
The Betahaus (http://www.betahaus.de/)  located in Kreuzberg is also a place where you can go sit down in the lounge/cafe and do some work. It's not a cafe in the traditional sense, it's a coworking space that is more and more going into the startup space (http://www.betapitch.de/).
Others like to go to Cuccuma (http://www.cuccuma.de/) which is also located in Kreuzberg
Cafe Rix in Neukölln/Rixdorf. Only drawback there: they have only a few power supplies there.
If you get sick of Oberholz or there's no room, head to the opposite corner of the intersection to Mein Haus Am See (http://www.mein-haus-am-see.blog…).  Free wifi and usually at least a few people staring at laptops.  Not much in the way of power outlets, unfortunately.
@westberlin is great. We are launching an application dedicated to find great places to work in Berlin – Y5
Sunday normally everything is closed in Germany. However, there are some exceptions. In Berlin, if you need to meet a client, Microsoft Digital Eatery is the exception.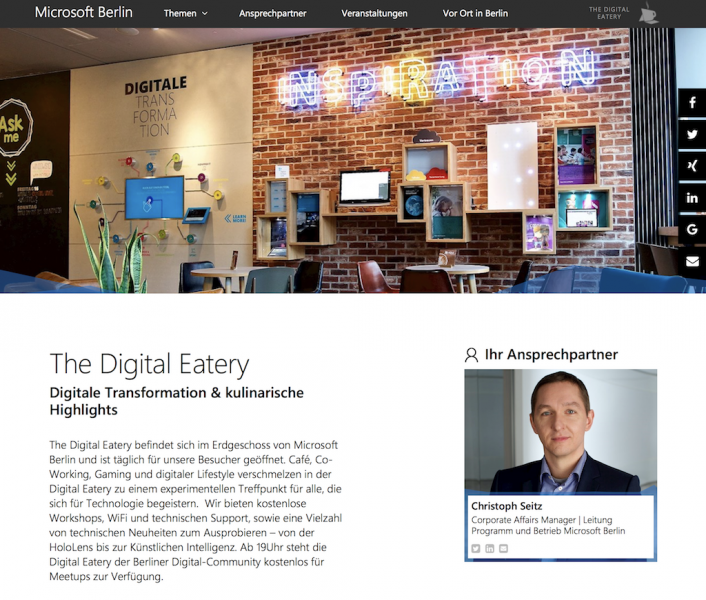 Website: https://www.microsoft-berlin.de/the-digital-eatery
Address
The Digital Eatery
Unter den Linden 17
10117 Berlin
Öffnungszeiten
Monday to Friday 09:00 – 19:00 Uhr
Saturday 11:00 – 19:00 Uhr
Sunday 11:00 – 18:00 Uhr